Travelling is one of the most coveted leisure activities in the world, especially for millennials. From backpacking trips on a budget to luxurious vacations at villas, there are many options to choose from when planning our next trip. One consistent theme of travelling, however, is payment.
No matter how hard we may try, we always have to use cash or credit cards to pay for things like plane tickets, accommodation bookings, food expenses and souvenir purchases, just to name a few.
Driven by habit or concern, many people bring cash with them even when they have credit cards that cost little and earn rewards. Is cash really the better form of payment when travelling? To help you understand this issue, we have prepared a guide discussing a few major factors you should consider.
Availability and Acceptance
The first thing you should consider is whether credit cards are widely accepted in the countries you are going to visit. Most developed regions like the US, Europe, Korea, Japan, Hong Kong or Australia should not present any problem. However, for other regions like SE Asia, India or Africa, you definitely should consider getting enough cash for the whole trip prior to getting on your flight.
You should also remember that while Visa and MasterCards are widely accepted in most places, other cards like American Express or Discover are sometimes not accepted by local merchants.
Exchange Rate
Exchange rates can vary significantly depending on where and how you get your money exchanged. The most expensive route is the money changers at airports or local shops at your destination. These places can charge you 15-20% higher exchange rate. For instance, if you are travelling to New York, you would have to spend S$1.61 to get $1, 18% worse than the S$1.37 per S$1 rate of the market rate.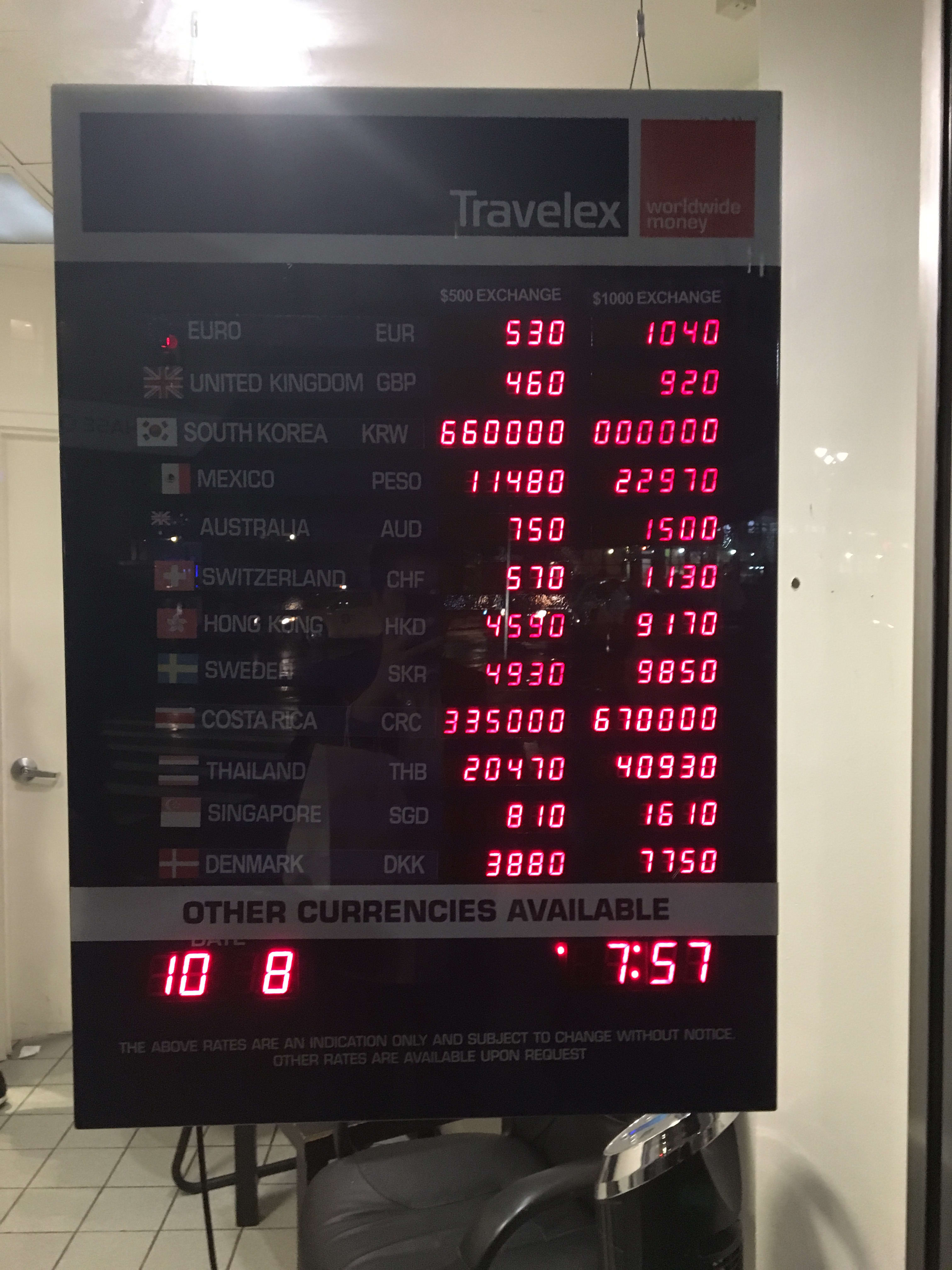 *Picture is from October 7th, 2016 in Manhattan, NYC
Exchanging cash at your local bank is comparatively better, and typically charge you a rate that is 8% higher than the market rate. While this is still high, you will likely not find better exchange rates anywhere if you need to use cash at your destination.
Lastly, the best exchange rate is offered by your credit cards. According to the data we collected from Visa and MasterCard websites, credit card companies change your money at rates that are extremely close to the market rates charged between banks in the interbank market. For example, both Visa and MasterCard offer S$1.37 per $1 of the exchange rate for their customers, which is in-line with the market rate.
From our sample, credit card companies offered exchange rates only 0.6% higher than the market rate on average. From this point of view, you are almost always better off using credit cards than using cash when you are overseas, as long as cards are widely accepted in the country.
*Data is from October 7th, 2016
Transaction Fee
While cash transactions don't cost you any money, credit cards do come with a bit of fee. However, most credit cards in Singapore charge a foreign exchange transaction fee of 2.5%, which is still much better than the +8% exchange rate that you have to pay at your local banks. Not only that, credit cards from HSBC and Maybank don't charge any fees and only come with the 1-1.5% fees charged by Visa and MasterCard.
Rewards Rate
The best part about credit cards is that they earn rewards for you in form of air miles or cash back. Some cards can even earn better award rates for your expenditures overseas or for your travel bookings. We've found that rewards cards can earn north of 5-6% of awards for savvy consumers in Singapore who actively use their cards and pay off their balance on a monthly basis.
For instance, Citi PremierMiles Visa card typically earns 1.2 miles for S$1 you spend. However, when you use this card while travelling, you can earn 2 air miles per S$1 of spending, almost 70% higher than the usual rate. Air mile rewards are great because you can usually redeem them not just for air tickets, but also for hotel room bookings.
Conclusions
As long as credit cards are widely accepted in the country you are travelling to, it's always advisable to use credit cards instead of cash. Compared to 8-20% of exchange fee you have to pay when exchanging cash for local currencies, credit cards only cost 1-3.5% of transaction fee while providing you with opportunities to earn 5-6% in forms of air miles or cash back.
This article was contributed by ValuePenguin
Recommend

0

recommendations
Published in Credit Card, Travel