Have you caught on with the Pokemon Go Craze in Singapore? If you've jumped on the bandwagon and has gone Pokemon-hunting sometime since the start of its launch in Singapore on 6th August, you'd have noticed your mobile data consumption heading north.
While you may not have received your telco bill for this month, you should watch out for the increased mobile data usage and learn some useful tips on how to optimise your mobile data consumption before you receive a bill shock. First up, let's look at how much data it takes to play the game:
Mobile Data Usage on Pokemon Go
Good news for those who think that your normal 3 to 4GB data on your mobile phone plan is not enough! In fact, according to several online sources, such as Tech insider and MobiPicker, the average data usage per hour for Pokemon Go is around 5 to 10 MB per hour, and this is if you've kept the game on your screen throughout.
For most of us who are casual players, you probably play it on your way to work in the morning, walking out to get lunch and on your way home from work. Considering this, you are probably playing it for a maximum of 4 hours per day. Using an average of 5MB per hour, you will consume 20 MB of data per day, and around 600 MB per month based on 30 days of usage. That's quite a far cry from bursting your mobile data usage provided with the plans provided by most telcos here in Singapore.
However, if you are a hardcore Pokemon trainer and often go the extra mile to catch these lovely creatures after work and clock up some 8 hours hunting on your weekends, then perhaps it's better to seek out some extra mobile data to ensure you do not pay the excessive mobile data charges.
Singapore Telcos' Mobile Data Plans Compared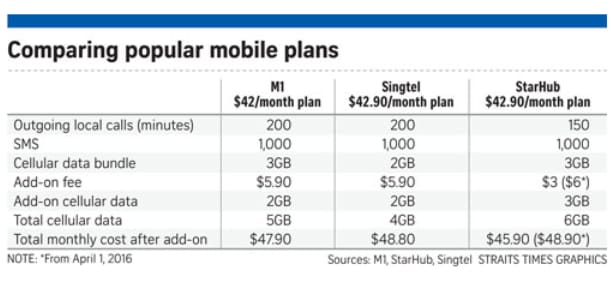 Image Source: Straits Times
Looking at the mid-range mobile data for the 3 main telcos here, you can see that the cheapest plan for a basic 3GB data is M1, offer the plan at $42 per month. If you want to have the add-on data option, you can either stick to M1, which offers a total of 5GB of data at $47.90 or pay an extra dollar to have Starhub's 6GB plan for $48.90 per month.
We know that the days of 12GB data plans are gone, but for a good reason too – having 12Gb data plans en masse is unsustainable in the long run as it runs the risk of network congestion. In a way, it's for the common good since not many of us actually utilise so much data and we are essentially paying for "data-hoggers" who will then clogged up the system.
Having said that, for those who still prefer to have a high mobile data plan, you should definitely check out Starhub's new Surfhub plans, offering between 12Gb to 24 GB of data at much more affordable prices than before. Prices start at $96.56 for the 12GB plan and only $156.56 for 24GB of local data.
For those who prefer to stick to their casual Pokemon-hunting and have no plans of upgrading their mobile data plans, we've got some useful tips for you to optimise your mobile data usage while playing the game:
1. Use Wi-Fi instead of Mobile Data
Singapore has a wide network of free wifi areas so utilise that. Not sure where to get free Wi-fi? There are now at least 33 MRT stations that offer free wi-fi and by 2020, all train stations and bus interchanges will provide access to free internet surfing. Fast-food outlets such as Mcdonald's and KFC, as well as Starbucks cafe provide free internet surfing.
Other than that, museums, certain shopping malls, as well as attractions and tourist areas also allows free wi-fi access; the other great news is that these areas are popular areas to catch Pokemon as well!
2. Switch off Background Apps
Most of us think that when we close the app on our mobile, the app is switched off. In fact, you kind of just minimise it when you do that and the app is left running in the background, consuming your data usage. Make sure to switch off any other background app when playing Pokemon go to avoid using excess data.
3.Optimise your Play Time
Instead of keeping your game open and staring at it in the hope that a Pokemon will appear, utilise your playtime properly by only playing near where there are a number of Pokestops around, near areas where there are high human traffic and Pokestops with lure modules on.
4. Download Your Local Maps
Since the Pokemon go app doesn't download much data except that it uses the GPS function a lot, one of the best ways to avoid data usage is to save the map of your city in google maps. To do this, simply go to google maps and select offline areas and pinch or drag the area you play in. You can do that for the most frequent places you use, such as those you take on a daily basis and it will not take up a huge amount of space.
5. Get A Credit Card That Can Help You Save On Mobile Bills
Some credit cards provide great cash back on your monthly utility bills. For example, HSBC Visa Platinum card helps you save 5% on monthly utility bills like cable, internet and mobile data, and another 5% on grocery shopping. Other cards like OCBC 365 Credit Card helps you shave 3% off of your phone bills every month and 6% off of your dining bills. You can check out more rewards credit cards like these here.
Recommend

0

recommendations
Published in Budgeting